When someone asks me what I do, I tell them I am a celebrant. Usually a crease forms around their eyebrows, and their jaw tightens. Then I explain that a celebrant helps their clients create meaningful and satisfying ways to celebrate and mark personal achievements, transitions, and life events. I add that weddings, milestone anniversary celebrations, new home blessings, and funerals are among the ceremonies that I perform. A look of recognition crosses their face.
I continue, and tell them that one of the reasons I earned my certificate as a celebrant, was to develop the essential skills to reflect the mystery of an individual's life story in ceremony and ritual. Life lives itself in a completely different and magnificent way through every single human being. This is life's sweet mystery. Not the type of mystery that needs to be solved or even necessarily understood. The beauty of the unknown continuously expresses and renews itself through life's cycles.
We're most likely to be moved by our own mystery at life's dramatic turning-point moments: getting married, witnessing the passing of a loved one, having a baby, accomplishing a goal, coming of age, moving into a new home, retiring, getting divorced, confronting illness, adopting a child, remarrying, burying a beloved animal friend. In the course of our lifetime, we cross many thresholds and experience many rites of passage. It is at these moments that we seem most inclined to listen deeply to our own truth and soak in its' brilliance.
In diverse cultures, throughout the history of humanity, formal acknowledgment of life's milestones has always existed. Whether attending to celebration or loss— ceremonial tribute offers a meaningful context for the soul to experience the precious mystery of life and share this experience with others. Making a conscious choice to acknowledge our rites of passage eases the transition and diminishes the strangeness that rises up to meet us at each new crossroad. The unmistakable intent of ceremony is to welcome us home, back into the circle of our own true, unchanging and undying nature.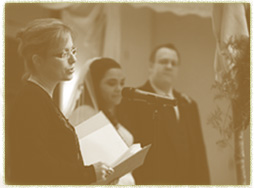 "The important thing is not to stop
questioning. Curiosity has its own reason for existing. One cannot help but be in awe when one contemplates the mysteries of eternity, of life, of the marvelous structure of reality. It is enough if one tries merely to comprehend a little of this mystery every day. Never lose a holy curiosity." Albert Einstein