In diverse cultures, throughout the history of humanity, formal acknowledgment of life's milestones has always existed. Whether attending to celebration or loss – ceremonial tribute offers a significant context to experience the precious mystery of life and share this experience with others.
We're most likely to feel moved at life's dramatic turning-point moments: getting married, witnessing the passing of a loved one, having a baby, accomplishing a goal, coming of age, moving into a new home, retiring, getting divorced, confronting illness, adopting a child, caring for a loved one, remarrying, navigating loss, or burying a beloved animal friend. This is when we seek ceremony in an effort to understand and attend to change.
As a Life-Cycle Celebrant, I create meaningful and satisfying ways to celebrate and mark personal achievements, transitions, and big life events. Making a conscious choice to acknowledge our rites of passage eases the transition and diminishes the strangeness that rises up to meet us at each new crossroad.
The act of ceremony carves out breathing room in the midst of change. Commemorating these moments affirms life during joyful times and comforts us during the tender times. The unmistakable intent of ceremony is to welcome us home, back into our own true nature surrounded by a circle of love.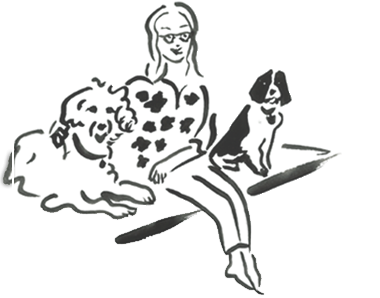 For life's important times.
A one-woman shop. Two canine consultants on the premises.
Weddings
Funeral Ceremonies
Home Blessings & Animal Ceremonies
Transitions & Milestones
Baby Blessings
traditional
gay
Interfaith
multicultural
elopements
vow renewals
memorials
celebration of life
scattering ceremonies
remembrance rituals
ethical wills
blessings of the pack
tribute tails
moving-in rituals
moving-out blessings
compassion
elder shout-out
baby welcoming
baby namings
adoption welcomings
parenthood showers