A celebrant wedding ceremony allows you to be totally and absolutely sure – as well as completely certain – that every bit of your ceremony will be just the way you imagine. It delivers you to the 'altar', literally and symbolically, with a heartfelt life-affirming YES YES YES!
Whether you envision your ceremony as mythic, magical, minimal, romantic, lighthearted, serious, urbane, intellectual, lyrical, quirky, atheist, agnostic, intimate, distinctive, spiritual, sacred, secular, traditional, honest, warm, happy (most definitely happy), loving or a combination of these qualities – I work enthusiastically on your behalf. I listen to you intently. The flow and tone revolves around your vision, while at the same time careful attention is dedicated to your love story – so that all the pieces come together thoughtfully within traditional ceremonial structure. You will be able to enjoy your own ceremony because you get to see every word (actually every comma too) beforehand; rendering you certain that you will not only know exactly what will be said but as importantly that it will reflect your beliefs, values, personality and story. This leaves you standing on firm ground (in the midst of your own very special peak experience!) surrounded by dear family and friends.
Rich cultures, new and old traditions and rituals come together on this day blended with care. They strengthen and reinforce your vows, while at the same time connecting you to those who have come before you on this path.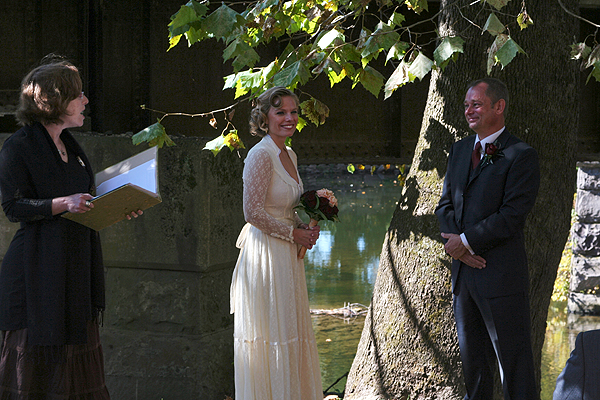 The ring ceremony might be the one wedding ritual that is shared by all traditions and cultures. It lies at the core of the wedding ceremony – sealing the vows between bride and groom, bride and bride, or groom and groom; as they become life partners in front of their dear ones. The wedding ring is placed on the left finger of the hand – the finger which carries the vein to the heart; worn as a physical reminder that the sacred and the ordinary are always entwined. This sense becomes greater in your day to day married life, where the commonplace and the extraordinary continually reveal themselves through life's dance.
The wedding ceremony is a sublime moment which points to the enduring commitment that you and your sweetheart are making in the presence of those you love. It is one of the most joyful ceremonies that humans have the privilege to participate in. Imagine your families and friends coming (maybe from different corners of the earth) to celebrate and support you both as you promise to seek purpose and joy in building your home and life together.
Our journey together is collaborative. I write and officiate personal ceremony for traditional weddings, secular weddings, elopements, gay weddings, multicultural weddings, interfaith weddings, weddings that wish to include elements from their traditional and faith backgrounds and also destination weddings.
Elopements – I am located just 5 miles from two very beautiful vineyards as well as a quaint B & B on the Delaware River – in Hunterdon County, New Jersey. I can help you arrange a small elopement ceremony at one of these memorable locales.
Vow Renewals & Milestone Events
For when you want to say 'I do' one more time. Or shout your age from a mountaintop. Or acknowledge an accomplishment with flautists and homing doves …
And who doesn't? There isn't a better way to celebrate an anniversary or a special milestone birthday or any other achievement then with a fierce ceremonial celebration. Whether you've held on to your vows and want to say them just as you did way back when, or you wish to tweak them and bring them up to speed, or compose totally new promises – this is your moment to take your place in marital history or create new birthday lore and do it your way.
When you collaborate with me – a Life-Cycle and Family Celebrant – you are assured that heed is paid to your creative self-expression. Actually, it would be pretty impossible for me to 'see' your ceremonial celebration any other way than through your eyes. I am happy to provide you with a no-obligation consultation to discuss your very personal special ceremonial event. I write and officiate personal ceremony for vow renewals, anniversaries, milestone ceremonies, special birthdays and I am more than happy to create a one-of-a-kind, never seen or witnessed-before ceremony branded just for you. Only our imagination can stop us. Please call me at 908-962-0642 or email me at dorry@circleoflifeceremonies.com