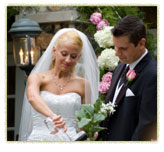 A celebrant wedding allows you to be certain that your ceremony and vows are true to your personality, values, beliefs and spirit. It brings you to this fundamental rite of passage both literally and symbolically. It delivers you with warmth, compassion and conscious attention right to the altar.
If we think about wedding rings, we realize that they are an ancient, universal symbol. The roundness of a ring has no beginning or end. It is the perfect image of completeness, eternity and the soul. A wedding ring symbolizes the sacred and the ordinary; merging together simply to inform the fundamental nature of life. Its' circular shape, just like the path the earth takes around the sun every day, suggests that our being depends upon the cycles of life as well as those ways we choose to experience it.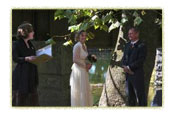 Usually, it is in life's most transcendent moments when we wake to the wonder of it all. As you plan your wedding and cross this threshold together, this sweet mystery is most apparent. The wedding ring that will be placed on your left finger of the hand closest to your heart is a reminder that the sacred and the ordinary are always entwined. This sense becomes greater in your day to day married life, where the commonplace and the extraordinary continually reveal themselves through life's dance.
The wedding ceremony is a sublime moment that points to the enduring commitment that you and your partner are making in the presence of those you love. You are choosing to find meaning, purpose and joy in building your home with one another. Your decision to move forward as one embraces and celebrates life's sweet mystery.
The ring ceremony might be the one wedding ritual that is shared by all traditions and cultures. It lies at the core of the wedding ceremony – the sacred vessel which anoints the bride and groom as they become life partners in front of their family and friends. Rich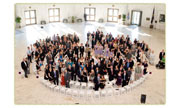 cultures, traditions and rituals come together on this day as one. They strengthen and reinforce your vows to one another, while at the same time connecting you to those who have come before you on this path. Your wedding ceremony leaves a life-long, impression on your heart and soul. Families and friends gather happily to support and witness this significant moment in your lifetime.
"Love is the expansion of two natures in such fashion that each includes the other, each is enriched by the other." Felix Adler